There's not much sweeter than springtime in New England, and it's coming, we swear! Until it is here to stay, feast your eyes on these lush, lavish gardens. They are truly a sight for sore eyes….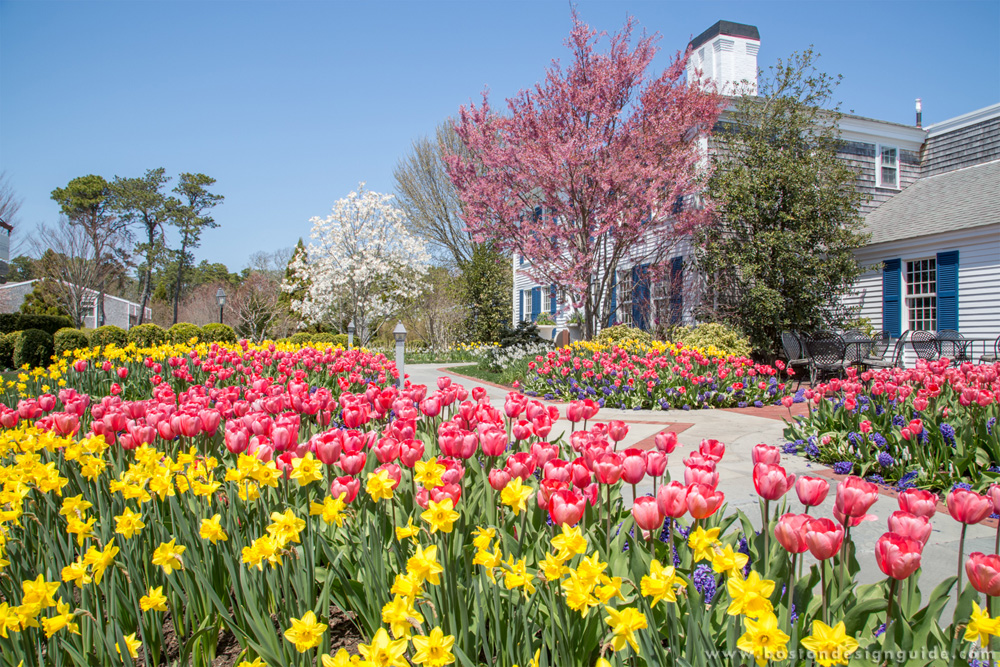 Bursting with bulbs, this cheerful residential garden tended by Schumacher Companies gives Holland a run for its money with its beds of sun-loving tulips, daffodils and hyacinths. This site, with its flowering trees and profusions of color alongside the walkway and terrace, is an ode to springtime and speaks to the talent and collective green thumb of the family-owned landscape construction and maintenance company.
Landscape architecture by Matthew Cunningham Landscape Design; construction by Martin Lucyk Landscape Construction; additional credits: Pond Creations by Sean; Corbett Irrigation; Shadows and Light; Paradis Metalworks; Stone Farm; Casa Outdoor; Bartlett Tree Experts; Select Horticulture; Artesmesia Perennial Supply; The Garden Concierge
Matthew Cunningham Landscape Design (pictured above and top) mingles traditional and contemporary elements in an impressive garden a stone's throw from Harvard Square. Under canopies of birch, maple and variegated dogwood trees, and within dappled sun and shaded areas, antique Rockport granite is grounded alongside structures of blackened stainless steel. With modern furnishings and features like a custom fountain with varying flow speeds, the composition makes for a hip urban setting. "An incredible show of bulbs absolutely erupts in spring," says the firm, among beds laden with plantings of European ginger, hellebore, Carex, amsonia, dwarf Solomon's seal, astilbe and tree peony. 
Landscape design by Gregory Lombardi Design; landscape construction by R.P. Marzilli & Co.; photo by Anthony Crisafulli
This heady vista, by landscape architects Gregory Lombardi Design and landscape contractor R.P. Marzilli & Co., was conceived for a modern-day gentleman's farm in Dover. As "the clients have an affinity for a lot of color and flower," explains Principal Project Manager Troy Sober of Gregory Lombardi Design, this garden was cultivated as a focal point to be enjoyed from two outdoor terraces as well as from inside the home. A water feature, reminiscent of a trough and antique pump and a nod to the setting's agrarian roots, stands amid the blooms. When they couldn't find the right basin for the fountain, Gregory Lombardi Design and the masons at R.P. Marzilli & Co. made one themselves, carving out a stone vessel from an old bridge abutment.
For a resplendent home in Southborough, The MacDowell Company layered on the plantings to soften a rich hardscape comprised of an upper veranda and a series of lower terraces. Changes in elevation are punctuated by small stone retaining walls, weeping Japanese maples, a collection of pine, a False Cypress, azalea, spirea, perennials and masses of groundcover for a feel-good botanical display.
Landscape architecture by Sudbury Design Group; photo by Greg Premru
This picture-perfect home in Chestnut Hill is one with its luxurious, leafy grounds, designed by landscape architects Sudbury Design Group. We love how the firm lays it on thick; seemingly every inch has greenery—from the English ivy climbing the brick façade to the clematis hugging the lamppost to the moss hovering on the retaining walls. Manicured boxwoods hold court in front of the house giving way to shocks of annuals in white and a spectrum of purple shades.
Landscape architecture by Katherine Field & Associates; landscape construction by Landscape Creations
This sunny garden, conceived by Katherine Field & Associates and constructed by Landscape Creations, was the product of an inspired landscape renovation that reworked an unstructured, rolling lawn. Thanks to the way Field intermingles the species of plant (think purple cone flower, day lily and ornamentals) and their respective heights, the landscape has "a naturalized, cottage feel," says Landscape Creations' Business Development Manager Peter Hunt. Which is not to say it doesn't have shape; indeed, a gate and mature privet hedge were used as boundaries and serve to define the outdoor garden space.
Boston Design Guide
19321 at https://www.bostondesignguide.com