There is outdoor living, and there is outdoor living. For about nine months now, we've all yearned to be in spaces that soak up the sun, the sky or the sea. We take a look at some incredible outdoor spaces by Boston and Cape Cod's top landscape professionals, architects and builders. 
Nantucket Playground
Landscape architecture and outdoor furniture by Gregory Lombardi Design Incorporated; engineering by Braken Engineering; landscape contractor: Atlantic Landscaping; lighting contractor: Atlantic View Landscaping; photo by Richard Mandelkorn
This outdoor compound in Nantucket by Gregory Lombardi Design Incorporated was conceived to appeal to all ages, and give the residents a variety of ways to enjoy the extraordinary locale. As the home is not on the water, principal Gregory Lombardi capitalized on the sky and the enviable terrain. In Lombardi's hands, the central lawn, formerly a pool that was filled in and leveled, became the organizing feature. It runs right up to the main home, with offshoots including an outdoor kitchen area with a live-edge walnut table, a spa and pool house, and an infinity edge pool. The secret to successful vacation homes, says Lombardi, "is to create spaces where you can be alone together." There are experiences for all, and all within sight—whether you're bouncing on the trampoline or relaxing in the spa.
Vineyard Dream
Architecture by Jill Neubauer Architects; landscape architecture by Stephen Stimson Associates; construction by Doyle Construction Company; photo by Charles Mayer
The bath house and pool pavilion of an equestrian farm on Martha's Vineyard was created by Jill Neubauer Architects in tandem with Stephen Stimson Associates for residents who "wanted to step out of the everyday" and experience the freedom of an outdoor home. With its clean lines and stylish restraint, this structure, which is adjacent to an infinity pool, is quite literally a breath of fresh air. "It is simple, but it's soulful," says the architect, and complete with cooking, dining and living areas, and an outdoor shower. When evening falls and a fire is lit, a mosquito-netting curtain can be drawn around columns of river birch to keep the insects at bay and allow the owners to fully enjoy the alfresco space.
Poolside Sophistication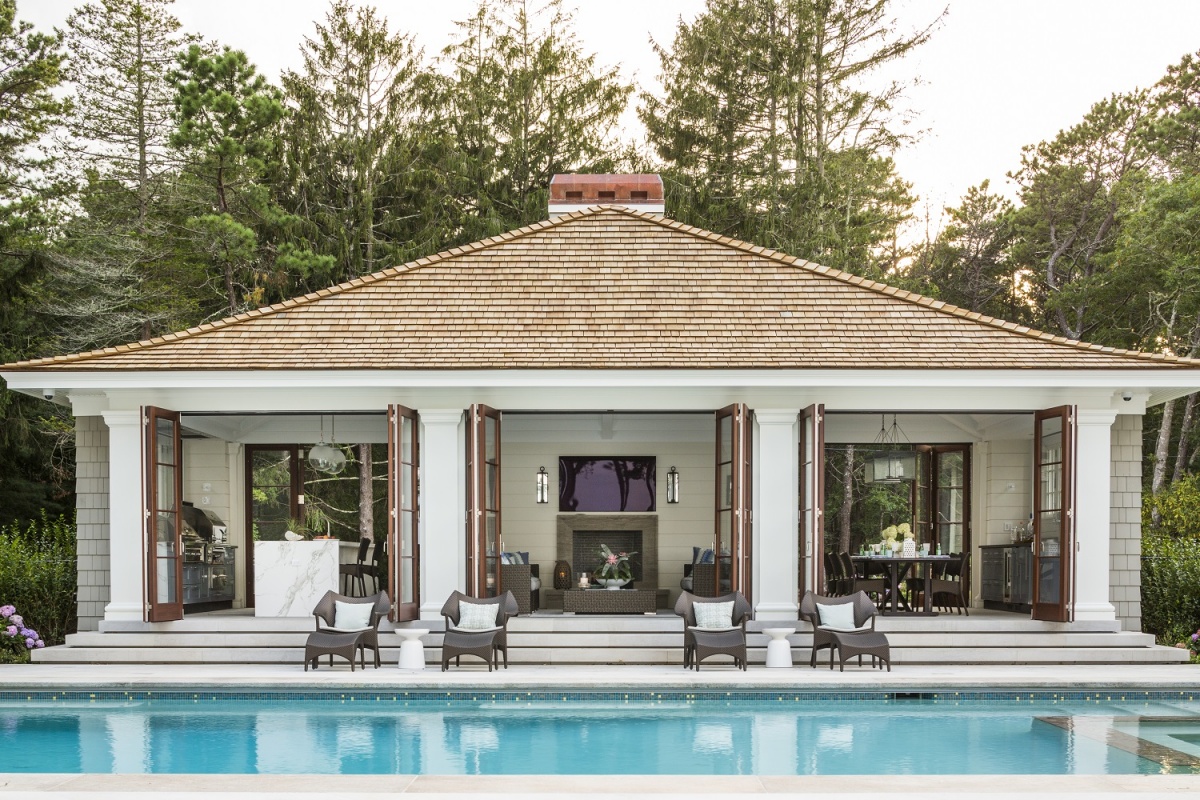 Architecture by Paul Weber Architect; general contractor: C.H. Newton Builders, Inc.; landscape architecture by Katherine Field and Associates; photo by Keller + Keller 
This elegant pool house designed by Paul Weber of Paul Weber Architect graces the exclusive Oyster Harbors in Osterville. The intersection of elegance and utility, this structure creates a tranquil setting for recreation, open-air dining and summertime entertaining. Complete with a wood-shingled hip roof and understated curved eaves, this sophisticated outbuilding "is anchored by a shallow overhang supported on columns," says the firm. A full kitchen and separate dining space flank a great room with a fireplace at its center, while three sets of mahogany bifold doors open to the elements and the pool deck steps below.
North Shore Stunner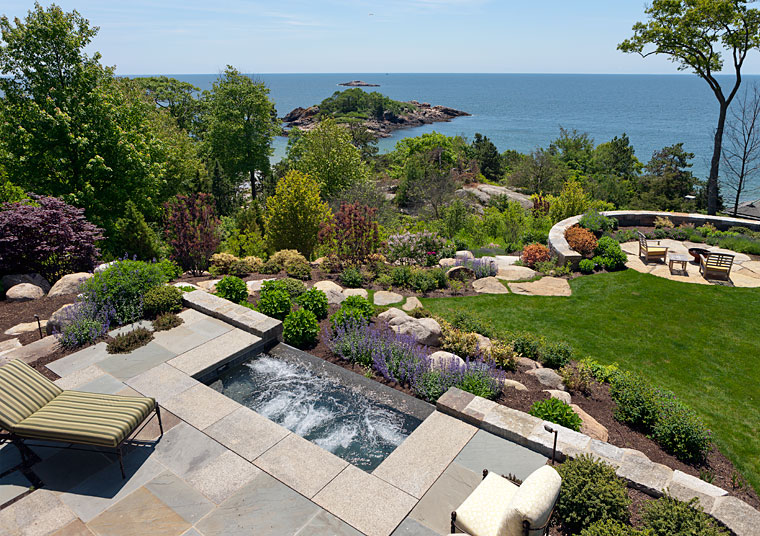 Landscape Construction by R.P. Marzilli & Company; landscape architecture by Gregory Lombardi Design Incorporated; photo by Warren Patterson
Carved into the coastline, this spectacular property in Manchester-by-the-Sea, constructed by R.P. Marzilli & Company and designed by Gregory Lombardi Design, was a challenging site to mold but gorgeous to behold. Multiple promontories and a tiered design provide lush outlooks to the sea, the most magnificent of which is from the terrace spa where residents and guests can bask in unobstructed views. R.P. Marzilli & Company used bluestone for the flatwork with granite banding, and mined (and cut and fabricated) much of the granite for the retaining walls and monolithic steps from the site. An abandoned local quarry supplemented the stone needed to craft the grounds' singular walls.
A Fresh Approach
Western Window Systems; architecture by Architectural Workshop
This impressive space in Denver, Colorado, was the result of a Cape Cod-style home's award-winning renovation by architect Brett Linscott of Architectural Workshop. To lighten up a formerly lackluster exterior, Linscott reimagined the façade, incorporating broad swaths of glass to achieve an upbeat new look. The contemporary home maximized its openings using Western Window Systems to "offer a full-house transparency that didn't exist before," shares Linscott. From an impressive wall of windows in the library to the two stacking 15-foot-wide-by-8-foot-tall Series 600 Multi-Slide Doors that create a portal to the patio, this bright and airy house now epitomizes indoor-outdoor living. Linscott offers, "The question we asked ourselves was how to create "wow" moments without a full-scale remodel." Mission accomplished.
Warm Welcome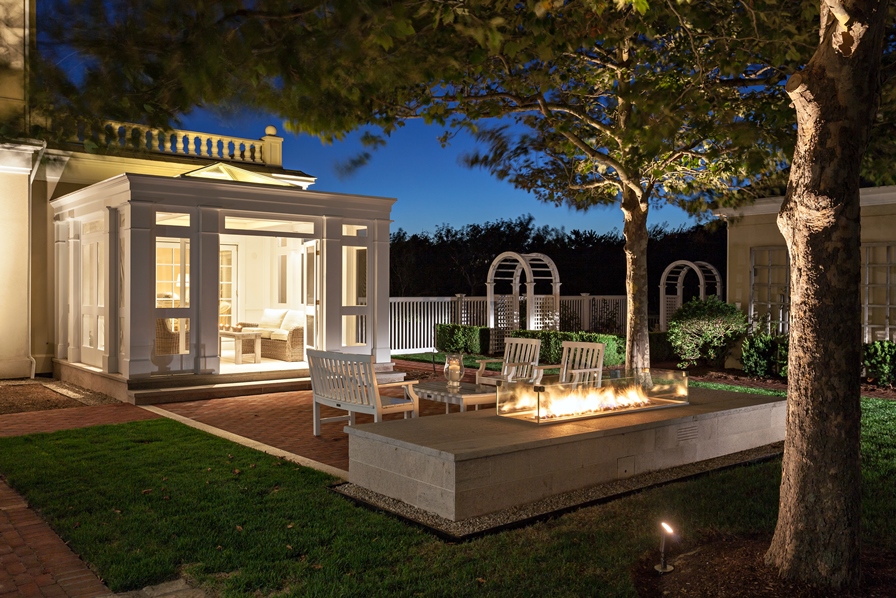 Architecture by Patrick Ahearn Architect; landscape architecture by Bernice Wahler Landscapes; construction by E.J. Jaxtimer Builder, Inc.; photo by Dan Cutrona Photography
This glowing, bricked terrace in West Hyannisport, a joint project by Patrick Ahearn Architect, Bernice Wahler Landscapes and E.J. Jaxtimer Builder, Inc., entices the homeowners to step out from the screened porch and sit awhile amid the flames of a fire feature and illuminated trees. Nestled within an area that's protected by the wind, this inspired vista is perfect for evening entertaining and, together with the pool terrace, intended to draw the eye out to Craigville Beach and maximize the ocean views.
Main image: The Schumacher Companies Landscape Artisans; photo by Jim Westphalen Photography
Boston Design Guide
19339 at https://www.bostondesignguide.com